Press release
Foreign Secretary announces UK support following Ministerial on Boko Haram
Foreign Secretary William Hague welcomes agreements reached at London Ministerial on security in Nigeria.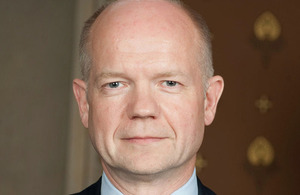 The Foreign Secretary today welcomed the agreements reached at the London Ministerial on Security in Nigeria and outlined a substantial package of further UK defence and development support in the fight against Boko Haram.
The UK, US, France, Canada, UN, EU and African Union met with Nigeria and their neighbours Chad, Cameroon, Benin and Niger to explore what more can be done across the region to tackle the underlying causes of conflict.
The Foreign Secretary said:
I have just come from chairing the London Ministerial meeting on Security in Nigeria.

We have all re-affirmed our strong and united commitment to defeat Boko Haram, to end the scourge of terrorism in Nigeria and to secure the safe return of the schoolgirls who are of course still missing.

We, the UK, have continued our support for that search as you know in providing surveillance aircraft and that continues. I am not going to give a running commentary on the technical progress of that search that's not in the interest of the girls but a great deal of work continues with multi-national support. To ensure that we deal more effectively with Boko Haram and with incidents of this kind we have reached a series of important agreements.

First, Nigeria, Chad, Benin, Niger and Cameroon have today confirmed that they will operationalise a Regional Intelligence Fusion Unit to bringing together all available information and tighten the net around Boko Haram. The UK, along with the US and France, will provide the necessary technical expertise.

Second, Regional countries have also agreed that they will from now on be running Multi National Joint Task Force patrols. We know that terrorists in Nigeria use porous borders to their advantage; they use them to regroup and to regroup and to rearm. This Task Force will better enforce borders to shut down escape routes of the terrorists. These are important steps towards making Nigeria safer for ordinary people under threat from terrorism.

But we did not just discuss security so third, all of the countries present have committed themselves to considering what more they can do on development, governance, education and gender to combat the underlying causes of conflict and insecurity in the region.

And we were united in our agreement that any effective response must be fully in accordance with human rights.

I am also pleased to be able to announce a substantial package of new British advice and support which we have agreed with our US and French partners.

We will increase our work with the Nigerian Government to strengthen its capacity to deal with Boko Haram. This will mean significantly expanding the training and tactical assistance that the UK provides to the Nigerian Armed Forces. This will include helping to train units deployed on counter insurgency operations against Boko Haram in North East Nigeria. We will also provide further assistance to regional security and intelligence cooperation.

We also want to make sure that Boko Haram does not succeed in its twisted mission to deny education to girls, so together with the US, we will boost our education programmes to draw a million more boys and girls into education in Northern Nigeria. We will be increasing our support for girl's education to help better protect those who are most vulnerable.

And through our Department for International Development, we will do even more to help Nigeria and the region deliver development and prosperity, ensuring that basic services and infrastructure are provided to those communities most at risk.

This package is a substantial boost to our existing commitment to the fight against Boko Haram and we will meet again to discuss progress in Nigeria.

The abduction of the schoolgirls was a terrible reminder of the toll taken by Boko Haram on women across the world. It is therefore very good news that in the margins of this Summit Cameroon, Benin and Niger have joined Nigeria and Chad in endorsing the Declaration to End Sexual Violence in Conflict.

Defeating Boko Haram will be a long and difficult task. But the atrocities committed against innocent and vulnerable communities are too important to ignore. And all the countries gathered here today have shown that we are certainly not going to ignore them and our resolve to defeat them has been further increased.
London Ministerial on Security in Nigeria: communiqué
Follow the Summit live
There are several ways you can keep up-to-date with developments at the summit:
Published 12 June 2014