Foreign Secretary announces expulsion of Syrian diplomats
Foreign Secretary William Hague has announced the expulsion of the Syrian Chargé d'Affaires – Syria's most senior diplomat in the United Kingdom – and two other diplomats from the Embassy.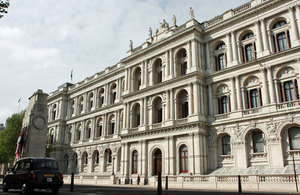 The action was a direct response to the horrific killing of over 100 people including 49 children and 34 women in el-Houleh. It was an expression of the international outrage at the Syrian regime's repression of its people, which continues even after the international community and United Nations Security Council's condemnation.
The United Kingdom is taking this action in concert with partners across the world and sending a stark signal to President Assad and those around him that their actions have consequences and that they cannot act with impunity.
Making the announcement the Foreign Secretary said:
"We have been seeking in recent days to increase the pressure on the Assad regime and to get the message across to them that the world, the international community, is appalled by the violence that has continued, by the behaviour of the regime and by the murder of so many innocent people, including in the terrible massacre at El Houla which was reported at the end of last week. We want to get the message across to them that they have to choose, that time will run out for the Annan plan and that they have to make the choice about what they are going to do.
"So as part of that pressure today we have again called the Syrian Charge in London here to the Foreign Office. He has been given seven days to leave the country. Two other Syrian diplomats will be expelled at the same time, and our allies and partners around the world will be taking similar action.
"Of course we will seek other ways to increase the pressure as well. We are discussing in the European Union a further tightening of sanctions on Syria. I have had the discussions with Russia yesterday… and the Russian Foreign Minister did agree with me yesterday that it is necessary to increase the pressure on all concerned, including the Assad regime, to implement the Annan plan - something that the regime has so far failed to do. We will continue to discuss this with Russia, since Russia has particular leverage over the regime and therefore a particular role in this crisis".
The international community is continuing to seek ways to increase pressure on the Syrian regime to implement the Annan plan. Yesterday the Prime Minister spoke to President Hollande and UNSG Ban Ki-Moon.
Today the Foreign Secretary has discussed next steps with the Foreign Ministers of France, Australia and Canada and is currently having talks with Spanish Foreign Minister Garcia Margallo.
Published 29 May 2012