Press release
Foreign Secretary and Palestinian President discuss peace process
Foreign Secretary William Hague and President Abbas say they are keen to work together for a 'stable and secure future' in the Middle East.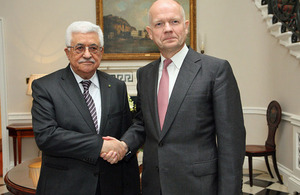 Palestinian President Abbas has begun a four day visit to the UK, starting with a meeting with the Foreign Secretary, William Hague. During this meeting they discussed progress on the Middle East Peace Process, as well as shared concerns for stability in Syria. They also reiterated their desire to work together for a stable and secure future.
The Foreign Secretary said:
I warmly welcome President Abbas to London.

During our meeting today I paid tribute to the courageous leadership he and Prime Minister Netanyahu have shown in agreeing to return to negotiations on the Middle East Peace Process. President Abbas and I agreed on the urgency of achieving a negotiated peace, to end the Israeli-Palestinian conflict once and for all. As Secretary Kerry has said, if we do not succeed now, we may not get another chance.

I underlined to the President the UK's long-standing position: that we support a negotiated agreement leading to a safe and secure Israel living alongside a viable and sovereign Palestinian state, based on 1967 borders with agreed land swaps, with Jerusalem as the shared capital of both states, and a just, fair and agreed solution for refugees. I reiterated our opposition to the building of settlements on occupied land. And I reiterated to President Abbas that Britain is ready to do all it can to support the Palestinians, Israelis and the United States to achieve this agreement and the lasting peace that the people of the region need and deserve.
Further information
Follow the Foreign Secretary on twitter @WilliamJHague
Follow the Foreign Office on twitter @foreignoffice
Follow the Foreign Office on facebook and Google+
Published 9 September 2013