Press release
Foreign Office welcomes successful Belgrade Pride Parade
David Lidington congratulates Serbian government on creating right conditions for first Pride Parade since 2010.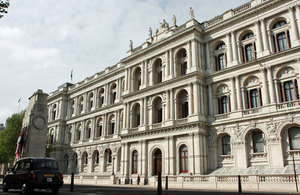 Belgrade hosted its first Pride Parade since the 2010 event was marred by violent clashes between far right groups and police. Planned Parades between 2011 and 2013 were banned by the Serbian government on security grounds.
Staff from the British Embassy in Belgrade, including Ambassador Denis Keefe, took part in the Parade to show support.
Minister for Europe David Lidington said:
I welcome the staging of the Belgrade Pride Parade on 28 September. I was pleased to see such a well-attended celebration of Serbia's diversity.

The Serbian government deserves credit, after three years of banning the parade on security grounds, for creating the conditions for the parade to go ahead, and not giving to the threats of an intolerant minority.

This is a positive signal for Serbia ahead of the opening of Chapter 23 in its EU accession negotiations that it is committed to the values of EU membership. The UK is already working together with the Serbian authorities in supporting LGB&T rights and reducing intolerance, work which must continue.
Further information
Published 28 September 2014