Press release
Foreign Office troubled by sentencing of election monitors in Azerbaijan
Foreign Office calls for Azerbaijan to respect role of civil society following latest prosecution.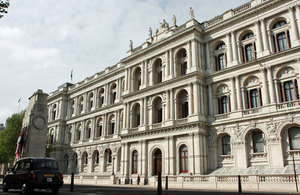 The sentencing of three civil society activists in Baku on 26 May is the latest in a worrying trend of pressure on civil society in Azerbaijan. This case follows the recent sentencing of NIDA youth activists and political opposition figures earlier this year.
A Foreign Office Spokesperson said:
The Foreign Office is deeply disappointed by the sentencing of Anar Mammadli, Bashir Sulemanli and Elnur Mammadov to up to five and a half years in prison, following allegations of tax evasion, illegal business activities, and abuse of authority.

This case has highlighted once again the concerns felt by many about the selective application of the rule of law in Azerbaijan. Independent election monitors play an important role in promoting a democratic society and they should be allowed to conduct their work without fear of intimidation.

The UK calls on Azerbaijan to respect the principles of justice and reverse this worrying trend.
Further information
Follow the Foreign Office on twitter @foreignoffice
Follow the Foreign Office on facebook and Google+
Published 28 May 2014