Foreign Office summons Syrian Ambassador
On the Foreign Secretary's instructions, the Syrian Ambassador to London, Dr Sami Khiyami, was summoned to the Foreign Office this afternoon to see the Political Director Sir Geoffrey Adams.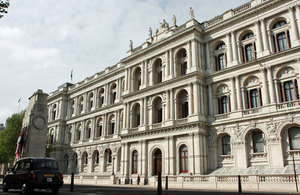 Sir Geoffrey began by referring to the Foreign Secretary's statement today on the death of Marie Colvin and Remi Ochlik and stressed the grief we all felt. Marie Colvin was an outstanding Sunday Times journalist. The Political Director said the Foreign Office expected the Syrian authorities to facilitate immediate arrangements for the repatriation of the journalists' bodies, and for the medical treatment of the British journalist injured in the same attack.
Sir Geoffrey stressed that the British Government was horrified by the continuing unacceptable violence in Homs, which has been under attack for 19 days. He noted that today alone the world had witnessed the death of more than 60 civilians, including children, on the single street of al-Hakoura in the Baba Amr neighbourhood.
Our clear demand was for the violence to stop immediately. The Syrian authorities must implement the undertakings they had given to the Arab League, halt all violence against civilians, and start an orderly political transition before a single further death took place.
Published 22 February 2012