Press release
Foreign Office responds to Sudan's decision to expel two UN officials
Minister for Africa condemns Sudan move to expel senior UN figures and joins UNSG Ban Ki-moon call to reverse decision.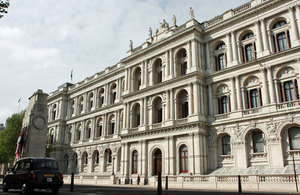 Commenting on the Government of Sudan's decision to expel the United Nations Resident Coordinator and Humanitarian Coordinator, and the Country Director of the United Nations Development Programme, Minister for Africa James Duddridge said:
I condemn the deeply regrettable decision by the Government of Sudan to expel two senior United Nations staff. These are dedicated professionals who have been working to support and assist the people of Sudan - millions of whom have benefited from UN developmental and humanitarian programmes. It is essential that the Government of Sudan co-operate with UN missions and agencies in their country; and I join with the Secretary General in calling on the Government of Sudan to reverse this decision.
Further information
Follow Foreign Office Minister James Duddridge on twitter @JamesDuddridge
Follow the Foreign Office on twitter @foreignoffice
Follow the Foreign Office on facebook and Google+
Published 27 December 2014