Foreign Office Ministers visit Royal Marines following their return from Afghanistan
Minister for Afghanistan Alistair Burt and Minister Jeremy Browne visited 40 Commando Royal Marines in Taunton on 4 November.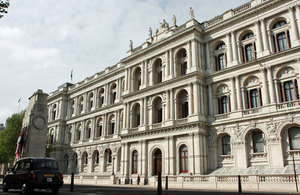 The Ministers spent the morning at 40 Commando's Norton Manor base where they will hear about the marines' recent deployment to Afghanistan.
The UK is one of 48 countries providing troops to the UN-mandated NATO-led International Security Assistance Force (ISAF) in Afghanistan. UK forces are in Afghanistan to protect our national security; to prevent Afghan territory from again being used by Al Qaeda as a base from which to plan attacks on the UK and our allies.
The Ministers took part in a lunchtime discussion at the Royal British Legion offices with representatives from organisations involved in supporting the armed forces and their families. These included:
The Royal British Legion

The Royal Air Force Association

The Soldiers, Sailors, Airmen and Families Association

Help for Heroes
The Ministers will have a chance to learn about the local work of these organisations as well as discuss the UK's wider approach and progress in Afghanistan.
While in Taunton, Minister for Afghanistan Alistair Burt signed up to Somerset's "Shoulder to Shoulder" campaign. The campaign is run by Somerset County Gazette in support of 40 Commando Royal Marines.
Published 5 November 2010