Foreign Office Ministers meet Colombian Vice-Minister
Foreign Office Ministers Henry Bellingham and Jeremy Browne held talks with the Colombian Vice-Minister for Multilateral Affairs Patti Londoño yesterday.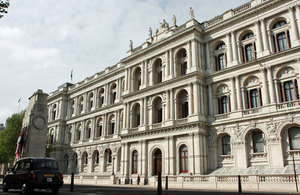 Minister Londoño is visiting the UK to discuss UN Security Council (UNSC) business. Colombia has a non-permanent seat at the UNSC and their first Presidency begins in April.
Minister Bellingham, as the minister responsible for UN matters, spoke of the UK's commitment to working with Colombia as a partner on priority UNSC issues such as UN reform and peacekeeping missions. He also discussed Colombia's priorities for their first UNSC Presidency with Minister Londoño.
Minister Browne, as the minister responsible for Latin America, reiterated the UK's commitment to strengthening and broadening its bilateral relationship with Colombia. He also discussed human rights and the recent severe flooding in Colombia.
Published 27 January 2011