Foreign Office Minister welcomes trial of Khmer Rouge leaders in Cambodia
Thirty-two years after the fall of the Khmer Rouge, the trial of its three most senior surviving leaders heard opening statements on 21 November.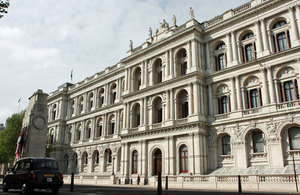 This trial was set up in 2003 to bring to justice those Khmer Rouge leaders who were most responsible for the deaths of around two million Cambodians between 1975 and 1979.
Speaking on the third day of this trial, Foreign Office Minister Jeremy Browne said:
"I welcome the opening statements this week in the Extraordinary Chambers in the Courts of Cambodia. This case represents an important step towards justice and national reconciliation for the people of Cambodia.
"After many years, victims of the Khmer Rouge regime in the 1970s and their families are finally seeing those accused of perpetrating atrocities stand trial. My thoughts at this time are with all those who suffered during this period."
Published 23 November 2011