Foreign Office Minister welcomes release of Gilad Shalit
Minister for the Middle East, Alistair Burt hopes the release will see progress on Middle East peace & reconciliation.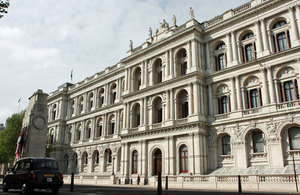 Speaking today Mr Burt said:
"I first met with Noam Shalit when I was campaigning with other MPs and European MPs for Gilad's release. When I saw Noam a few weeks ago in Jerusalem we did not know his son would be free so soon.
"I welcome his release from this unjustifiable captivity, and know that this has been a hard agreement for many people, who show great courage in accepting it.
"I hope that we might see more progress on other issues leading to Middle East peace and reconciliation."
The Foreign Secretary William Hague said:
"It provides a glimmer of hope in an often bleak scene that a successful negotiation can be carried out on this difficult subject.
"I know it is important for Israelis and Palestinians to return to negotiaition on the Middle East peace process and to approach it in the same way."
Published 18 October 2011