Foreign Office Minister welcomes increased regional cooperation on Afghanistan
Foreign Office Minister Alistair Burt attended the Istanbul Conference for Afghanistan on 2 November.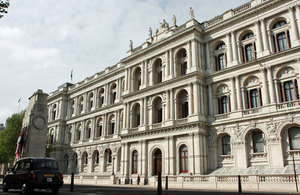 Hosted by the Turkish government, the Conference promoted greater cooperation between Afghanistan and its regional partners, particularly on security. It was expected to propose a series of measures to fight terrorism, promote regional trade and develop cultural and education links.
The UK was invited to attend the conference as an observer and we welcome the role played by all participants to ensure a stable Afghanistan.
Speaking following the Istanbul Conference for Afghanistan, Foreign Office Minister Alistair Burt said:
"Today's conference saw regional leaders go further than before in their commitment to work together for a stable and secure Afghanistan in a stable and secure region.
"Significantly, regional leaders, supported by international partners, signed up to an "Istanbul Process", ensuring for the first time a framework for taking forward political and security co-operation, and going beyond economic cooperation. They also made commitments to support the Afghan government in its efforts to promote reconciliation and to tackle terrorism together across the region.
"I was grateful to the Afghan and Turkish governments for hosting the conference and congratulate them on achieving this outcome. The test will now be in the implementation, though the fact that the region could reach agreement on these quite sensitive issues is important.
"We will continue to encourage and engage with the process."
This was the first in a series of international conferences on Afghanistan over the next six months. The Bonn conference on 5 December will be an opportunity for the international community to reiterate its long term commitment to Afghanistan and for all parties to commit to making progress on key development priorities, as agreed at the Kabul Conference last year.
The Chicago conference in May next year will focus on international funding for the Afghan National Security Forces after 2014.
Cooperation between Afghanistan and the heart of Asia region continue to be essential to international security. These conferences will ensure that the region remains high on the international agenda.
Published 2 November 2011