Foreign Office Minister visits Tunisia
Minister for the Middle East and North Africa Alistair Burt will meet the Tunisian Foreign Minister and Speaker of the Parliament and engage with British business while on a visit to the country.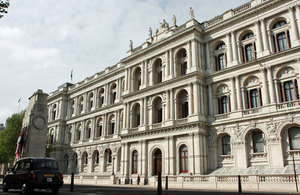 The Foreign Office Minister will also travel outside the capital and engage with British businesses in Tunisia.
Speaking on arrival, Mr Burt said:
"I am delighted to be in Tunisia. Just over a year ago, the Tunisian people rose up in the name of freedom and dignity against years of autocratic rule. Their actions inspired people around the world.
"More than one year on, Tunisia has made considerable progress, and the country has a representative government, which is working hard to tackle the challenges the country faces. The UK remains a firm supporter of the Tunisian people and, along with EU partners and others in the international community we are working to assist Tunisians as they implement change. We have a large programme of projects supporting the democratic transition in Tunisia as part of the UK's Arab Partnership programme, and plan to expand this further in 2012 in discussion with government and civil society here.
"Our economic ties are strong. British companies are already big investors in Tunisia and we hope to be able to increase the level of trade still further.
"Tunisia also has an important role to play in the region and we support them in this. The Tunisian government successfully hosted the Friends of Syria meeting last month and continues to play a leading role as part of the Arab League effort to bring an end to the bloodshed and appalling repression in Syria".
Published 13 March 2012