Foreign Office Minister on violence in Mitrovica
Foreign Office Minister for Europe David Lidington has made a statement following violence in Mitrovica on 11 September.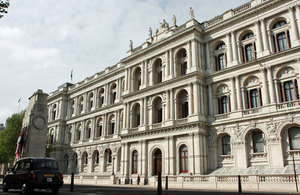 Following the violence, the Minister for Europe said:
"I am deeply saddened to hear of the violence and subsequent injuries, including to EULEX, KFOR and Kosovo Police personnel, that occurred over the weekend in Mitrovica.
This was a senseless action by a small number of perpetrators and I welcome the strong condemnation from the Governments of Kosovo and Serbia. The actions of the perpetrators must not be allowed to undermine the unique commitment that has just been agreed by all sides, to bring peace, stability and prosperity to the region through a period of increased cooperation and dialogue.
I commend the courage and commitment of EULEX, KFOR and the Kosovo Police in containing the incident and call on Kosovans of all communities to work together to resolve their differences peacefully and to reject the use of violence."
The violence started after the Serbian national basketball team were defeated by Turkey in the semi-finals of the basketball world championship in Istanbul.
Published 13 September 2010