Foreign Office Minister on Kenya
Foreign Office Minister Alistair Burt has issued a statement following President Bashir of Sudan's visit to Kenya.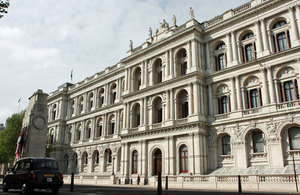 Foreign Office Minister Alistair Burt said:
I am disappointed that President Bashir of Sudan last week travelled to Kenya in defiance of International Criminal Court arrest warrants for war crimes, crimes against humanity and genocide. Today the Kenyan High Commissioner was summoned to the Foreign and Commonwealth Office.
We made clear that the British government expects the Government of Kenya to stand by its obligations under the Rome Statute, and as a UN member state. The Government of Kenya has repeatedly committed itself to full cooperation with the ICC in respect of crimes in Kenya, and I reiterate the importance that the British government places on such commitments.
Published 1 September 2010