Foreign Office Minister meets Prime Minister of Timor-Leste
Foreign Office Minister Jeremy Browne met East Timorese Prime Minister Kay Rala Xanana Gusmao on 7 March.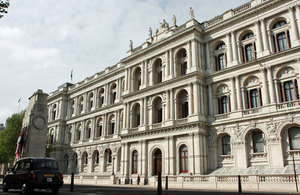 Speaking after the meeting the Foreign Office Minister said:
"It was a great pleasure to welcome Prime Minister Gusmao to the UK. Our discussions covered a wide range of current interests, including: Timor-Leste's successful transition from conflict to increased stability, which is an important model for other fragile states; strategies for economic growth and prosperity; and the role of the UN peacekeeping mission, UNMIT.
"This is an important time for Timor-Leste, as plans begin for the withdrawal of the UN peacekeeping mission and elections in 2012.
The UK's continued engagement through the UN and EU underlines our commitment to Timor-Leste's long-term stability and future prosperity."
Earlier that day the Prime Minister was the keynote speaker at a Department for International Development organised seminar called 'Timor-Leste's transition from conflict to stability'.
Prime Minister Gusmao presented Timor-Leste's recent successes in moving from a state of fragility to greater stability. He also described the "g7+" initiative of Fragile States and its work in the context of the International Dialogue on Peace-building and State-building, both of which Timor-Leste chair.
This was Prime Minister Gusmao's first official visit to London since 2003; he was accompanied by Timor-Leste's Secretary of State for Security and Vice Minister for Foreign Affairs.
Published 7 March 2011