Press release
Foreign Office Minister meets President of Somalia
Mark Simmonds meets President Hassan Sheikh Mohamud of Somalia.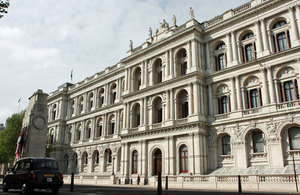 Foreign Office Minister for Africa visited Somalia on 15 April to demonstrate UK support for Somali peace and development. He held constructive talks with President Hassan Sheikh Mohamud, the Defence Minister and other government ministers on issues including security, human rights and economic development.
During the visit the Minister expressed concern about recent terrorist attacks in Mogadishu and welcomed the advances made by the African Union Mission in Somalia and the Somali National Army in securing more territory from Al Shabaab. He also visited Villa Somalia, where he gave a keynote address on the progress made, the challenges still ahead in Somalia and UK support.
Mr Simmonds said:
I am delighted to have visited Somalia at a crucial time for the Federal Government in their fight against Al Shabaab. The UK remains at the vanguard of international efforts to support the people of Somalia in their desire to build a stable, democratic and prosperous society. I reiterated UK support in my discussions with President Hassan Sheikh Mohamud and other ministers. I also encouraged the Federal Government to inject further momentum in its efforts towards a federal settlement and constitution ahead of elections in 2016.

In Mogadishu I saw first-hand some of the progress made since my last visit the challenges that conflict brings, in particular its impact on women and children. I was glad to visit a PSVI empowerment centre for victims of sexual violence. We will work with the UN and Somalia to ensure that security is provided to all communities in a way that upholds the highest human rights standards.
Further information
Follow Foreign Office Minister Mark Simmonds on twitter @MarkJSimmonds
Follow the Foreign Office on twitter @foreignoffice
Follow the Foreign Office on facebook and Google+
Published 16 April 2014