Foreign Office Minister meets Guatemalan Vice Minister
Following his meeting with Guatemalan Vice Minister Carlos Raúl Morales, Foreign Office Minister Jeremy Browne talked about why Guatemala matters to the UK.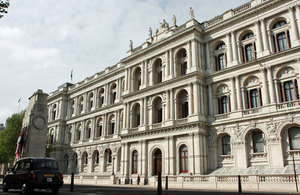 He said:
"Guatemala matters to the UK. This is why I am delighted to have hosted Guatemala's Vice Foreign Minister, Carlos Raul Morales, today in London. Since we last met in July 2011, our bilateral relations with Guatemala have continued to strengthen, with progress on issues important to both countries, making real our Canning House commitments. Our Embassy in Guatemala City hosted a successful 'British Week' in March. This helped raise the UK's commercial profile in Guatemala, paving the way for British and Guatemalan companies to make the most of the EU-Central America Association Agreement that will be signed in the EU by 25 June and in Central America on 29 June.
"Mr Morales and I discussed the new Guatemalan government's efforts to tackle security issues, and the UK's support for this through funding for several projects. We also discussed the Belize-Guatemala border dispute. The UK remains committed to the peaceful resolution of this dispute via the International Court of Justice process, and I confirmed UK support to this end. It is important that both sides work together to secure an ICJ referral in the referenda which will take place next October.
Published 7 June 2012