Foreign Office Minister meets Brunei Minister of Culture, Youth and Sport
Foreign Office Minister Jeremy Browne met Pehin Hazair, Brunei Minister of Culture, Youth and Sport on 28 July.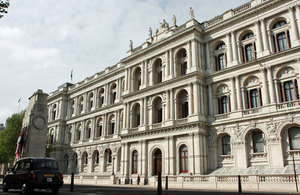 FCO Minister Jeremy Browne said:
"It is my pleasure to welcome Pehin Hazair and the Olympic delegation from Brunei Darussalam, led by HRH Prince Sufri Bolkiah. Pehin Hazair visited the Olympic Park in December last year to meet the British firms who have brought this global spectacle in on time and on budget and we are delighted he is here for the Games themselves.
"I have been hugely impressed by Brunei's initiative to use the Olympic and Paralympic Games to promote nation-building, public health and an inclusive society in Brunei. Our two nations have shared aspirations and I hope that we can continue to develop our strong cultural and historical ties.
"I wish the Sultanate's athletes luck in the Olympics, particularly in their most promising events - swimming and athletics."
Published 28 July 2012