Press release
Foreign Office Minister Ellwood statement on Yemen ceasefire
Minister for the Middle East, Tobias Ellwood, appeals to all parties to fully comply with the ceasefire in Yemen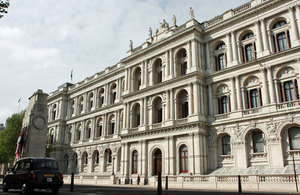 Minister for the Middle East, Tobias Ellwood said:
We are deeply concerned by reports of a missile being fired from inside of Yemen over the Saudi Arabian border, as well as reports that shelling in the city of Taiz has led to civilian deaths. The UK appeals to all parties to fully comply with the ceasefire, and work to resolve issues through the appropriate channels.

As peace talks brokered by the UN continue, the UK urges everyone involved to engage constructively in the process, which offers the best opportunity for peace and stability for the people of Yemen, in line with UN Security Council Resolution 2216. We continue to provide our full support to the UN Special Envoy for Yemen, Ismail Ould Cheikh Ahmed, and to offer our assistance in helping to bring this conflict to an end.
Further information
Follow Foreign Office Minister Tobias Ellwood on Twitter @Tobias_Ellwood
Follow the Foreign Office on Twitter @foreignoffice
Follow the Foreign Office on Facebook and Google+
Media enquiries
Email newsdesk@fco.gov.uk
News Desk 020 7008 3100
Published 10 May 2016