News story
Foreign Office Minister condemns senseless attacks in Nigeria
FCO Minister for Africa condemns latest terrorist attacks in Nigeria and reiterates UK commitment to support efforts to counter terrorism.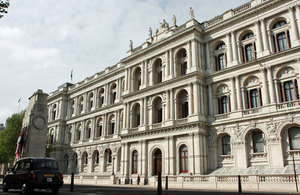 Foreign Office Minister for Africa, Mark Simmonds has commented today on reports of further terrorist attacks in northern Nigeria. He said:
I was appalled to learn of another senseless bomb attack today in the city of Maiduguri in northeast Nigeria. Today's attack outside a bank in the city has claimed the lives of more innocent Nigerians and follows the shootings at schools in Maiduguri yesterday in which a number of teachers were killed and students injured, as well as a bomb attack at a bus station yesterday in Kano.
I wish to offer my condolences to the bereaved and injured and condemn those responsible for such despicable acts of violence. There can be no justification for these attacks which have killed and injured ordinary Nigerians going about their daily business. The UK will continue to support the Nigerian authorities in their efforts to counter the terrorist threat in Nigeria and to help bring those responsible to justice.
Further Information
Read about the UK's work in Nigeria on the High Commission in Abuja website
Published 19 March 2013