Foreign Office Minister condemns murder of journalist in Somalia
Minister for Africa, Henry Bellingham, has condemned the murder of Shabelle Media journalist Ahmed Addow Anshur.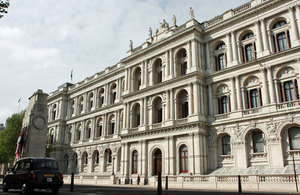 Speaking today, he said:
"I condemn in the strongest possible terms the murder of Shabelle Media journalist, Ahmed Addow Anshur, in Somalia. On behalf of the British Government, I offer my deepest condolences to Mr Anshur's family, friends and colleagues.
"We owe a huge debt to the bravery and professionalism of journalists in Somalia. The price that they continue to pay for their courageous work is intolerable. This is the sixth killing of a leading journalist in Somalia this year.
"Together with the UN Special Representative and other members of the international and Somali community, we call upon the TFG to honour its commitment to end the cycle of impunity against those who kill journalists and bring those responsible to justice."
Published 26 May 2012