Press release
Foreign Office Minister condemns bomb attacks in Egypt
FCO Minister condemns Egypt bombings and calls on all to refrain from violence.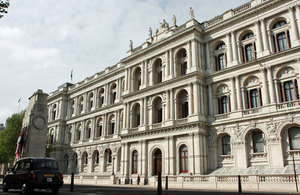 Speaking after the bomb attacks in Egypt, the Minister for the Middle East and North Africa, Hugh Robertson, said:
I condemn the terrorist attacks in Cairo this morning, in which a number of people have been killed and many more injured. My thoughts are with the families of those affected. I call on all Egyptians to resolve their differences peacefully and to refrain from violence.
Further information
Follow Foreign Office Minister Hugh Robertson on twitter @HughRobertsonMP
Follow the Foreign Office on twitter @foreignoffice
Follow the Foreign Office on facebook and Google+
Published 24 January 2014