Foreign Office Minister condemns attack on Malala Yousufzai
Foreign Office Minister Baroness Warsi has condemned the attack on Malala Yousufzai in Pakistan.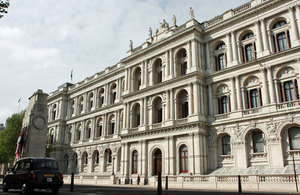 The Minister for Pakistan said:
"I utterly condemn the cowardly attack on Malala Yousufzai and her school friends in Swat, Pakistan. Through her inspirational activism Malala has bravely highlighted the need for education to be accessible to all children in Pakistan.
"Our thoughts and prayers go to Malala and her friends and family, and to the people of Pakistan who have suffered so much from terrorism. They will always have our sympathy, our understanding, and our robust support in confronting terrorism and supporting education for all in Pakistan.
"It is poignant that tomorrow is the UN International Day of the Girl, a day highlighting the challenges facing girls growing up around the world. It is my hope that Malala and all Pakistani children will be able to reach their full potential without the threat of terrorism hanging over their youth."
Published 10 October 2012