Foreign Office Minister comments on report detailing horrific human rights violations in Syria
Minister for the Middle East Alistair Burt has commented on the publication of the interim report from the Commission of Inquiry investigating human rights abuses in Syria.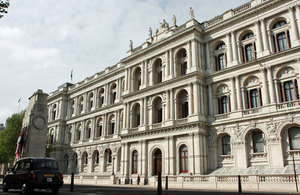 The Minister said:
"I welcome the publication of the Commission of Inquiry's report on human rights violations in Syria. After independent investigation, the report highlights the horrific and shocking actions carried out by the Assad regime against its own civilian population. These include summary executions, arbitrary arrests, enforced disappearances, torture and sexual violence. Particularly disturbing are the reports of the abhorrent treatment of children, including sexual torture. As the Commission states, such widespread and systematic attacks against civilians may amount to crimes against humanity.
"I am deeply disappointed that the Assad regime did not cooperate with the Commission. However, as a result of support from some neighbouring States, the Commission has been able to carry out its mandate very effectively. We support its recommendations and will continue to work with our international partners to bring an immediate end to the violence and bloodshed. We continue to believe that President Assad should step aside and allow the Syrian people to realise their aspirations for greater freedom, dignity and a more open political system."
The Commission was established by a Human Rights Council resolution on August 23 in light of the deteriorating humanitarian situation in Syria. They interviewed 223 victims and witness of alleged human rights violations, including defectors from the military and the security forces. As well as presenting an interim report today the Commission will also update the Human Rights Council at its 19th Session in March 2012.
The members of the Commission are:
Paulo Sergio Pinheiro (Brazil)
Yak?n Erturk (Turkey)
Karen Koning AbuZayd (United States)
Published 28 November 2011