Foreign Office Minister comments on executions in Japan
Foreign Office Minister Jeremy Browne expresses disappointment on the recent resumption of executions in Japan, the first to take place since 2010.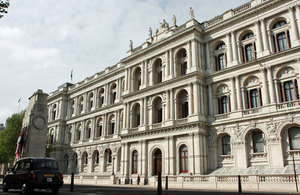 Foreign Office Minister Jeremy Browne said:
"I was very disappointed to learn that Japan has carried out three executions. I appreciate the seriousness of the grave crimes of which these Japanese citizens were convicted and I feel deeply for all those affected. But it is the longstanding policy of the UK to oppose the death penalty in all circumstances, as a matter of principle, in Japan as elsewhere. We urge the Government of Japan to refrain from carrying out any further executions and call on the Japanese authorities to establish formally a moratorium with a view to abolition of the death penalty.
"The use of the death penalty undermines human dignity including of those ordered to carry out the execution, and there is no conclusive evidence of its deterrent value. Any miscarriage of justice leading to the death penalty is of course irreversible and irreparable. The UK firmly believes that all governments should take note of the international trend towards abolition."
Published 29 March 2012