Press release
Foreign Office Minister calls for global abolition of death penalty
FCO Human Rights Minister calls for global abolition of death penalty 50 years after last execution took place in UK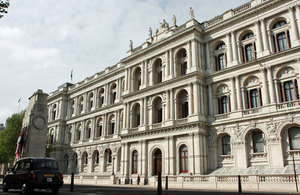 Baroness Anelay, FCO Minister for Human Rights, said:
This week marked the 50 anniversary of the last execution in the UK. Since then our laws have changed to a complete and permanent abolition in this country.

The United Kingdom strongly opposes the death penalty because we believe that it undermines human dignity and there is no evidence that it works as a deterrent, which is why we are calling for a global abolition.

There is also the terrible reality that innocent people can be incorrectly executed, the consequences of which can never be reversed. Prior to UK abolition, the victims of execution on a number of occasions were later found to be innocent – or certainly undeserving of the death penalty.

One tragic example is the case of Derek Bentley, who was hanged in 1953. He was formally cleared of his conviction for murder in 1998 – over 40 years too late. Since abolition we have been able to release prisoners exonerated after their convictions, rather than merely reflect on their wrongful executions.

In December the United Nations General Assembly will vote, as it does every two years, on a resolution calling for a moratorium on use of the death penalty. The United Kingdom will be voting for that resolution.

I strongly call on all states, including those which retain the option of execution on their statute books, but which are choosing not to carry out the death penalty, to join us so that we can continue to work towards our aim of global abolition.
Further information
Follow the Foreign Office on twitter @foreignoffice
Follow the Foreign Office on facebook and Google+
Published 16 August 2014