Foreign Office Minister: Brutal repression in Syria must stop
Foreign Office Minister Jeremy Browne has welcomed a strong UN Human Rights Council resolution condemning gross human rights violations in Syria.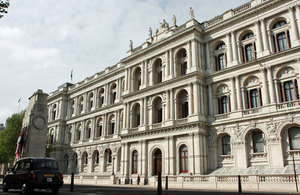 The UN Human Rights Council in Geneva have adopted a resolution that further condemns the gross human rights violations in Syria and establishes an independent Commission of Inquiry to identify those responsible.
Foreign Office Minister Jeremy Browne said:
"I welcome today's strong resolution, which was passed by a solid majority of Human Rights Council Members and sends a clear message to the Syrian regime that the brutal repression must stop and that those responsible for the violence will be held to account for their crimes.
"The recent report of the UN Fact-finding Mission on Syria cites first-hand evidence of the horrifying repression of the Syrian people by President Assad and his regime, including summary executions, torture, indiscriminate targeting of civilians including women and children, and an apparent shoot-to-kill policy for the dispersal of peaceful protestors. I call on the regime to allow access to the independent international commission of inquiry to investigate all alleged violations of international human rights law since March 2011.
"The pressure on Assad and his regime is mounting. We will continue to work with our partners and through the United Nations to support the Syrian people's demands for reforms delivering the fundamental rights and freedoms that are common to us all. President Assad has been completely rejected by the Syrian people. I reiterate our call that he must step aside now."
The resolution adds further weight to the calls on Assad to stop the violence from the United Nations Security Council, the Gulf Co-operation Council, the Secretaries General of the League of Arab States and of the Organisation of Islamic Co-operation, and from numerous States in the region.
The resolution was tabled by the UK and European Union and was passed by 33 votes in favour, four against and 9 abstentions.
Published 23 August 2011