Foreign Office Minister attends opening of new Brazilian Embassy
Foreign Office Minister Jeremy Browne today attended the opening of a new Brazilian Embassy in London, the day before the Opening Ceremony of London's 2012 Olympic Games.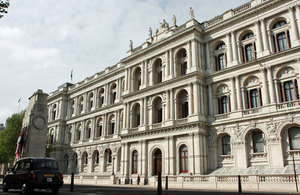 The Embassy was inaugurated by Brazilian President Dilma Rousseff just before the Olympic Torch was due to pass by on nearby Trafalgar Square, marking a symbolic moment for Brazil, who will be hosting the Games four years from now at Rio 2016.
He said:
"It is an enormous privilege for me to be attending the inauguration of Brazil's new Embassy in London, by President Dilma Rousseff. And it could not be a more perfect time: as the Olympic torch passes by and as we prepare to host the biggest sporting event there is.
"Brazil is one of our most important international partners. This newer, more spacious Embassy will enable its representatives here in London to stage bigger and bolder events than ever before. We are pleased to be able to welcome them this year, and especially as we prepare to hand the Olympic baton over from London to Rio."
The opening ceremony of the new building also heralded the opening of two exhibitions being held there for the duration of the Games: an interactive exhibition on sport and science led by the Brazilian Ministry of Sport, and an Embratur tourism exhibition focussed on the twelve Brazilian cities hosting the 2014 football World Cup.
The new, larger Embassy will also act as a platform for a range of Brazilian government functions in London, including the Brazilian Chamber of Commerce and the Anglo-Brazilian Society.
This is just one of numerous engagements this summer that showcase the enhanced relationship between the UK and Brazil. As adjacent hosts of the Olympic and Paralympic Games, the two countries have engaged in a programme of co-operation unprecedented in Olympic history. The opening of the new Embassy today is yet another manifestation of this continued collaboration.
Published 26 July 2012