Foreign Office Minister Alistair Burt visits Washington
Foreign Office Minister for North America and the Middle East & North Africa, Alistair Burt, concluded his visit to the United States with a visit to Washington following stops in Houston and Minneapolis.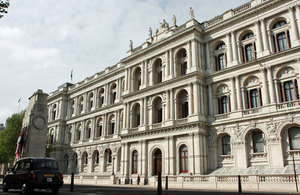 During his visit, the Minister discussed pressing foreign policy issues important to both the UK and US with US political leaders, State Department officials, and others active in the security and foreign policy community.
FCO Minister Alistair Burt on UK-US mutual prosperity
Foreign Office Minister Alistair Burt speaking on UK-US economic relations, highlighting the mutual benefits of the the special relationship.
Prior to coming to Washington, the Minister met with Minnesota Governor Mark Dayton and executives of some of the state's top investors in the United Kingdom. He also delivered a speech, " Britain and Minnesota: Partners in Turbulent Times," at the Minnesota International Center in Minneapolis. The speech highlighted the mutual economic benefits of the UK-Minnesota relationship, including:
$1.1 billion of UK investment in Minnesota
more than 90 British companies employing 14,400 Minnesotans
80 Minnesota businesses, such as 3M and Cargill, with successful operations in the UK
On the Houston leg of his visit, Foreign Office Minister Alistair Burt delivered a keynote address on energy security and the Arab Spring to the World Affairs of Houston. The speech addressed developments in the Middle East, the UK's engagement and perspective on the Arab awakening, and the impact of recent events on energy security.
In his speech, the Minister said:
"Political reform is sweeping the region; the economic certainties of its energy wealth are in flux. Western countries need to recognise how their relationship with the Middle East and North Africa is changing and maturing. As new energy sources develop and the demand from the East increases, our relationship will be based less on the one-way supply of oil, and more on mutual economic benefit, trade and exchanges."
In addition to the speech, the Minister met with key executives from across the energy industry to discuss current energy security issues. He was also interviewed for NPR's Bauer Business Report on KUHT Houston Public Radio.
Search the news archive
Published 3 February 2012