Foreign Office makes clear Assad regime cannot act with impunity
On 28 May the Syrian Chargé d'Affaires was summoned to the Foreign Office to see the Political Director, Sir Geoffrey Adams.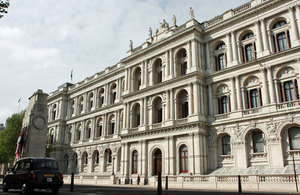 Sir Geoffrey made clear the UK's condemnation of the appalling massacre which took place in al-Houleh on 25 May which killed 108 people, including 49 children and 34 women.
Sir Geoffrey described this as a sickening and evil crime.
He said that an urgent international investigation should be carried out into the massacre and those responsible for acts of violence should be identified and held accountable. Sir Geoffrey said that unless the Syrian regime ceased all military operations immediately and implemented Kofi Annan's six point plan in full, the international community would take further quick and robust action in response.
He restated that the responsibility to end the violence lay squarely with Assad and those around him, and that spiralling conflict and worsening sectarian violence was a product of the regime's brutal response to dissent.
Published 28 May 2012