Press release
Foreign Office concerned at moves to shutdown Twitter in Turkey
Foreign Office concerned at reports of moves to shutdown twitter in Turkey. Free speech a fundamental right.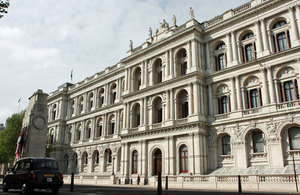 The UK urges the authorities in Turkey to reconsider any ban on access to social media. Freedom of speech and expression is a fundamental right for all.
A Foreign Office spokesperson said:
We are concerned about reports suggesting that access to Twitter from Turkey may be blocked.

Social media has a vital role to play in a modern democracy, and helps to promote transparency and vibrant public debate.

We have long supported Turkey's accession to the EU. As a candidate country, it is important for Turkey to promote the EU's core values of freedom of expression, democracy and the rule of law.
Further information
Follow the Foreign Office on twitter @foreignoffice
Follow the Foreign Office on facebook and Google+
Published 21 March 2014