News story
Food businesses pledge to increase fruit and veg
More fruit and veg will be added to ready meals and supermarket fruit and veg sections will be expanded as part of a new drive to encourage …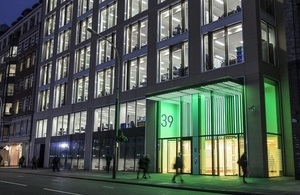 More fruit and veg will be added to ready meals and supermarket fruit and veg sections will be expanded as part of a new drive to encourage people to get their 5-a-day.
The move comes as part of the latest Public Health Responsibility Deal pledge that aims to encourage action across the food industry to help increase the amount of fruit and vegetables - including fresh, frozen, canned, dried as well as juices - used in pre-prepared food, such as ready meals.
Eating 5 portions of fruit and veg a day helps to lower the risk of serious health problems, such as heart disease, and some cancers. But figures show that two thirds of people aren't eating enough fruit and veg.
Public Health Minister Anna Soubry said:
"Through the Responsibility Deal we have already achieved real progress in helping people cut the calories and salt in their diet.

"All of the major supermarkets have now committed to removing artificial trans fats and over 70% of fast food and takeaway meals sold on the high street have calories clearly labelled.

"This pledge is part of a wider government plan to encourage everyone to eat their 5-a-day, which includes our £10 million investment in the Change4Life campaign and the 2.1 million children who receive a free piece of fruit or vegetable in school everyday under our scheme."
The 16 leading supermarkets, food manufacturers and trade bodies, that have signed up to the pledge include ALDI, Co-operative Food, Iceland, LIDL, Morrisons, M&S, Sainsbury's, Tesco, Waitrose, General Mills, Mars, caterers 3663, Brakes, CH & Co Catering, Subway and the British Frozen Food Federation.
**Chair of the Responsibility Deal Food Network Dr Susan Jebb said: **
"Eating more fruit and vegetables is central to a healthy diet and I am delighted to see the tremendous efforts by the food industry to support this exciting initiative enabling people to boost their consumption."
Published 15 November 2012