News story
Fit for the future: public health people
Public Health England (PHE) publishes a review of the public health workforce future capabilities and skills.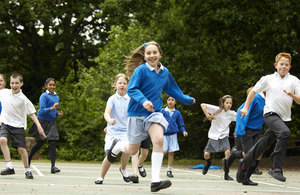 PHE has today (19 May 2016) published Fit for the Future – Public Health People, a review of the public health workforce. The report outlines recommendations to achieve a workforce that can meet future public health challenges and will contribute to the renewal of the Department of Health's national public health workforce strategy.
Fit for the Future focuses on the capabilities and skills needed in the workforce of the future, complementing a longer-term report on the workforce carried out by the Centre for Workforce Intelligence (CfWI) also published today. The report is based on research including a review of the available literature, interviews with the main stakeholders and a series of workshops throughout England.
There is agreement across the system on the issues that will affect change, and the likely implications for the future public health workforce. A sense of rapid social, technological, structural and financial change means there is a need for an increasingly agile, flexible, multidisciplinary workforce that retains many current public health skills but develops new ones.
While the report outlines many detailed recommendations to develop a workforce for 2021, 5 important themes have been identified to shape the system response:
Creating an attractive career.
Developing a stronger social movement for health.
Building skills for the 21st Century.
Strengthening strategic and system leadership.
Ensuring resilience, flexibility and mobility.
The importance of the wider workforce in delivering the radical upgrade in prevention, alongside the value of a core workforce with strong technical skills was consistently recognised. Properly supported, there is an opportunity for the wider workforce to influence public health outcomes in their day-to-day work with the public. This wider workforce includes other public sector workers such as:
occupational health professionals
town planners
housing officers
teachers
rescue personnel
It also includes healthcare professionals such as:
allied health professionals
pharmacists
primary care teams
Supporting this workforce to embed prevention and support throughout the system can create a climate for a social movement for health.
Deborah McKenzie,Director for Organisational and Workforce Development at PHE, said:
Challenges to public health have shifted over recent decades and the environment in which public health operates has also changed. While this is challenging, it also creates opportunities to improve and protect people's health. Our workforce is skilled, confident, respected and resilient, and is eager to continue to embrace these changes as they develop their capabilities.

This report will support decisions that can shape the workforce to meet new challenges. There is strong agreement across the system on the drivers for change, and the likely implications for the public health workforce. This consensus from a wide group of stakeholders, along with their commitment to joint action, gives us confidence that the recommendations outlined in the report will be achieved.
Published 19 May 2016