Press release
First round of Maldives' Presidential elections goes smoothly
Minister Alistair Burt congratulates people of Maldives on the first stage of the electoral process.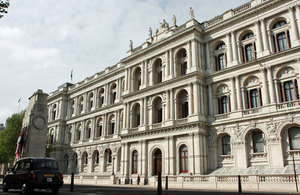 Speaking about the first stage of the electoral process in the Maldives, FCO Minister, Alistair Burt said:
I congratulate the people of Maldives on a successful first round of Presidential elections this past weekend. Election observers, both domestic and international, have broadly agreed that the election was transparent and competitive. The UK's election observers were also pleased to see that proceedings ran smoothly, and that the atmosphere was one of excitement and anticipation.
The exceptionally high turnout – estimated to be around 88% - demonstrates a significant public enthusiasm and support for democracy in Maldives. I hope political parties will honour this democratic engagement by working together in order to further consolidate democratic institutions in Maldives. I hope that the second round of elections on 28 September, and the transition to post-electoral politics, will also be free, fair and credible.
Following the elections, I urge all political parties to co-operate in the spirit of democracy and for the good of the Maldivian people.
Further information
Follow the Foreign Secretary on twitter @WilliamJHague
Follow the Foreign Office on twitter @foreignoffice
Follow the Foreign Office on facebook and Google+
Published 11 September 2013