First Opening Doors Awards handed out by Nick Clegg
Opening Doors Awards are given to companies who work to help young people get a foot on the career ladder regardless of their background.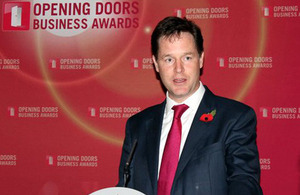 Companies providing exceptional career opportunities and inspiration to young people from all walks of life have been honoured by the Deputy Prime Minister, Nick Clegg, in the Opening Doors Business Awards 2013.
The awards showcase the very best traineeships and recruitment schemes offered by companies signed-up to the 'Business Compact' – a commitment to career opportunities based on what you know, not who you know.
200 young people were invited by the Deputy Prime Minister from across the country to attend a special careers event at Lancaster House in London. At the event, they met high-flying chief executives at a career 'speed dating' event and attended workshops to help them get the job they want. Practical experience of the world of work helps young people aim higher and believe that they can reach their career goals.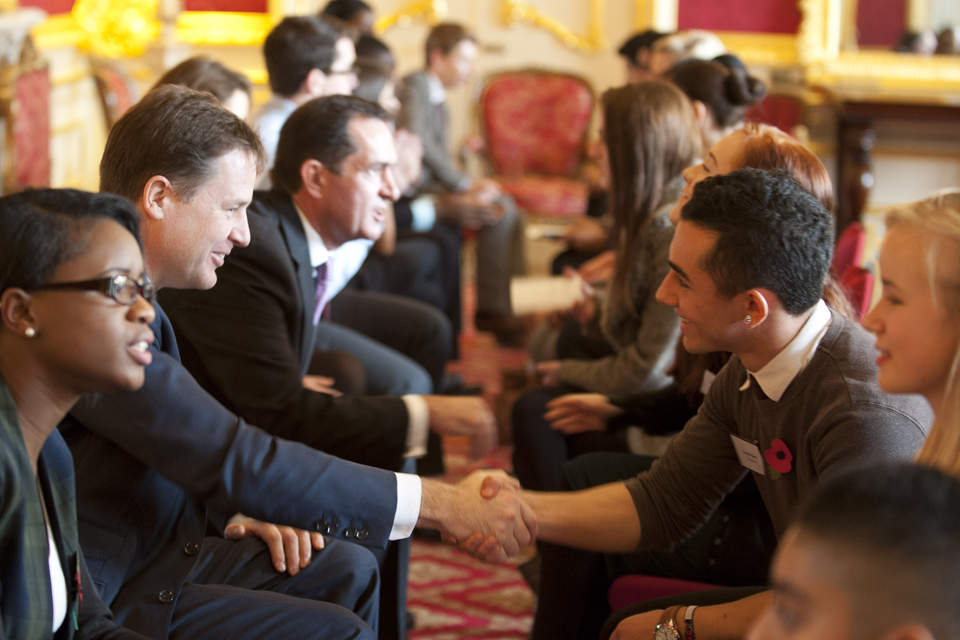 In the afternoon, the Deputy Prime Minister hailed the successes of these companies at an awards ceremony. He singled out the courage of 3 young people who have overcome hardship to reach their goals and break down barriers to employment. They each received an Inspirational Young Person's award.
Channel 4 has been named the winner of the Deputy Prime Minister's Award for Excellence in recognition of its outstanding contribution.
The Deputy Prime Minister, Nick Clegg, said:
Channel 4 has set a new standard for backing the future of leaders of British business. What they are doing for young people, fostering ambition and encouraging aspiration, matters a great deal.

All of the Opening Doors Business Awards winners have made exceptional efforts to inspire and support young people from all backgrounds. A desire to see young people succeed is deeply embedded in the culture of all these businesses. They've made an incredible difference to so many young lives and prove that reaching beyond traditional recruiting grounds makes for a more driven and entrepreneurial workforce.

The Inspirational Young People who received awards today have pushed themselves to achieve great things. And none of this would happen without the drive and determination of young people in this country to succeed. As a country we should be proud of them and the generation they represent.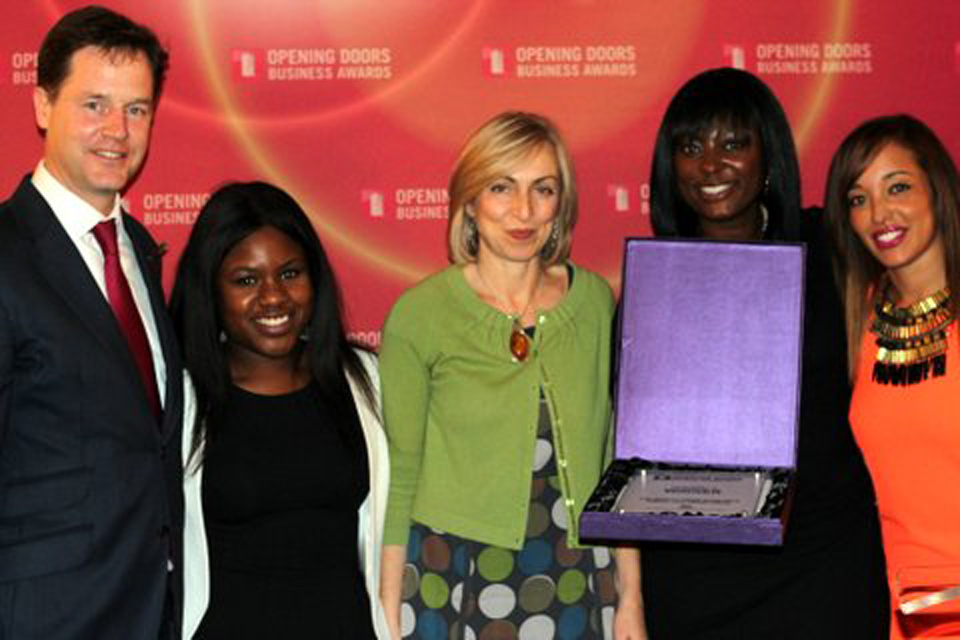 Read inspirational stories from young people who have benefited from companies' fair recruiting policies on our Opening Doors blog.
The Opening Doors award winners
The Deputy Prime Minister's Award for Excellence
winner: Channel 4 - Channel 4 run their own award-winning internal programmes through 4Talent offering work experience placements, apprenticeships, internships, workshops and master-classes for young people between 16 and 25
commended: Teachfirst
Best Outreach Programme
winner: Slaughter and May - this international law firm helps disadvantaged young people win places at top universities. The Key Project sees Slaughter and May staff work with students in partnership with the charity The Access Project to help to boost students' confidence and personal skills including written/spoken communication and listening skills. Almost 90 youngsters are currently on the programme and they received more than 810 hours tutoring last year
commended: O2 Telefonica
Best Work Placement Scheme
winner: Marks and Spencer - M&S partnered with youth charity, the Prince's Trust, to create a programme aimed at plugging the skills and experience gap that prevents so many people from getting a job. Launched in July 2013, the 'Make your Mark' scheme is for 16 to 25 year olds 'not in employment, education or training' known as NEETs. The scheme has helped 1,100 young people already.
commended: JP Morgan
Best Recruitment Scheme
winner: EE - the number of apprenticeships created by EE to help tackle youth employment has now smashed the 400 barrier. EE's apprenticeship programme started in April 2012 and has also expanded across the business. EE tailored their recruitment process to make it easy for apprentices with limited or no work experience to apply and develop, and focus their help on young people from areas with high youth unemployment
highly commended: McDonald's
Peter Searle, Chief Executive of Adecco Group and Opening Doors Business Awards Judge, said:
Successful businesses know that a diverse and motivated workforce is fundamental to remain competitive in today's economy. There is a strong business case for recruiting from a wider talent pool and we need to ensure that young people have access to employment because they represent the future of UK plc.

That is why I am so pleased to have seen so many genuinely inspiring schemes where young people are not judged by which school or university they went to but by what they can achieve.

We have made great inroads but the issue of social mobility and barriers to employment must continue to be a priority for coordinated action by government, industry and educators throughout the UK.
Ruby McGregor-Smith, CBE, Chief Executive of MITIE and Opening Doors Business Awards judge, said:
We should all congratulate the winners of the Opening Doors Business Awards; there were so many strong nominations from a wide and diverse range of leading businesses. It is great to see these businesses raising the prospects of young people in the UK. Successful businesses are driving change and demanding that talented young people be encouraged and supported. Our future prosperity, growth and global competitiveness depends on this.
3 awards were also made to inspirational young people who have overcome extraordinary barriers in life to achieve their ambitions. The winners are:
Mark O'Reilly, who was unemployed for months; he joined McDonald's and in a few years had gained qualifications and beat 40,000 others to be employee of the year
Naomi Tamar, who escaped domestic violence and wanted to help others – she won backing from O2 to publish a guide for other women in her situation
Adam Taylor, who was labelled 'special needs' at school but who worked his way through college and university while also supporting his family and is now a high-flyer at Airbus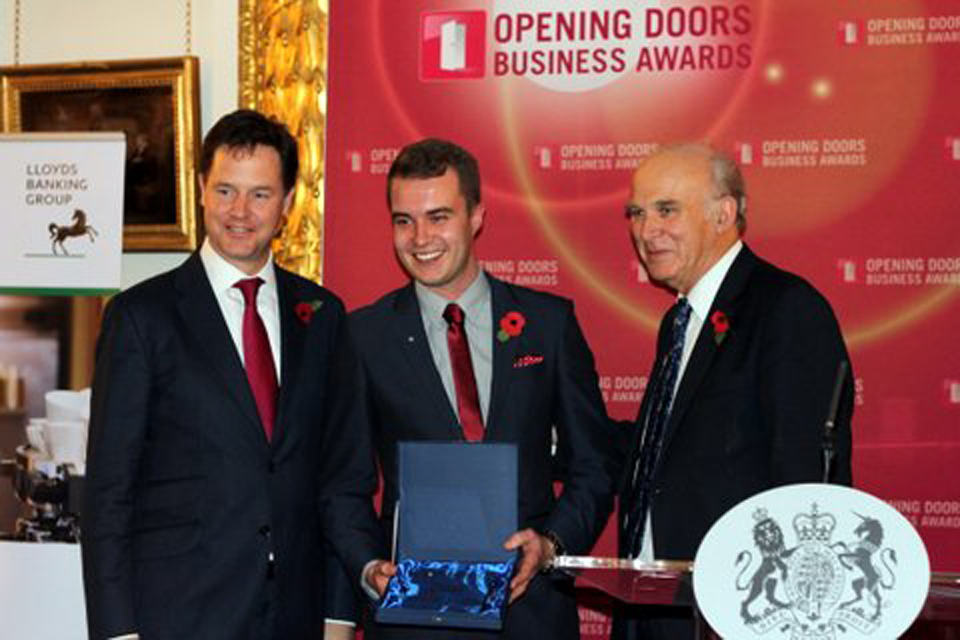 Published 5 November 2013
Last updated 5 November 2013
+ show all updates
The winners have now been announced and added to this page.

First published.