Case study
Adam Taylor - winner of 2013 Opening Doors Award
Adam Taylor won the Opening Doors Award for Inspirational Young Person.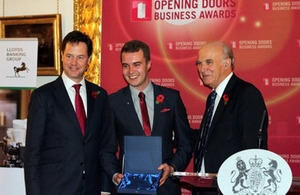 Labelled special needs as a child, Adam Taylor was brought up in a caravan after his father's business folded, yet he became the first person in his family to get to university and achieve the job of his dreams.
Born in Woolwich, one of south east London's most disadvantaged boroughs and the eldest of 3 sons, Adam Taylor's father was a lorry driver and his mother left school at 14. He credits his mother for spurring him on and says:
My mum and dad didn't want me or my brothers to struggle and really pushed us to do as well as we could.
Adam went to the local primary school where he was singled out as an underachiever. Confiding in a teacher of his goal to go to grammar school, he was told:
"You just need to learn Big Mac, large fries, because you haven't got a chance."
Speechless, Adam, then 10, walked away with a burning determination to prove him wrong.
Despite being advised against it, he sat, and passed his 11 plus (becoming the first in his family to sit a school exam) and won a place at grammar school. Shortly afterwards, his father's business went bust and the family lost their home. Adam says:
Back then, my parents really tried to shelter us from the details but I'm not stupid and could overhear conversations.

When we lost our home, my aunt lent us her caravan to move in while my dad found his feet just as I was studying for my GCSEs. My parents encouraged us as best they could but it was pretty tough to see them struggle.
From the first time he saw a plane roar overhead as a 5-year-old, Adam was mesmerised and held onto his dream. Moving schools, he worked hard to pass his GCSEs with flying colours and says:
I was pretty pleased despite everything that happened.
He worked part-time at Manston Airport, Kent, receiving flying lessons in return for overtime and achieving both his fixed wing and rotary (helicopter) private pilot's licenses.
The pilots were really supportive. If they had a cancellation, they let me up for free. There was a real unity among pilots who knew you have to start somewhere and I think that's what they saw in me.
Adam passed his A-levels, but his family, by this time, relied on his earnings so he worked for a year to support them and save up for university.
At Loughborough, Adam held down 4 part-time jobs which he credits for building his social skills. He says:
I met some really good people and it was great for networking. I didn't realise then that those skills would carry me through life. It made me who I am today.
Later his graft paid off when he achieved a First Class degree in Air Transport Management and his dissertation, on airline branding, was published.
Since joining Airbus Direct Entry Graduate (DEG) at 23, Adam has worked in different placements within the business functions and led the DEG Foundation Project to develop a device to benefit people with dementia.
Currently based in Toulouse, Adam works on a new marketing strategy for the A380 Superjumbo and will later go to Hawaii. Making the most of every opportunity, Adam plans eventually to take up a role within sales and marketing at Airbus.
A popular employee who approaches every problem with a 'can-do' attitude, if he ever gives up the aviation industry, you sense that Adam's a born motivational speaker but he brushes off any compliments:
I just did what I had to do. I needed money and wanted to learn so I did. There was no excuse in my eyes not to try.
Asked if he has a message for other youngsters who have a bumpy ride in life, Adam says:
I've always thought that you can turn a bad experience into a positive one because you can learn from it and push forward. Failure isn't an option. I mean, you might fail but if you've done everything you can to give yourself the best start whether it's study, volunteering or holding down 2 jobs, do it. Hopefully short-term pain can turn into long-term gain.
Refreshingly, Adam has never forgotten those early struggles.
I'm not one of those people who find academic work easy, but I know that if you work hard enough, nothing is impossible.

My father suffered a major economic crisis and there are so many people in the same boat.

I'm determined to do the best I can for him, as much as for myself.

Growing up and seeing my parents struggle, it's given me determination to never be in that position and support them as best as I can. It's my dream to buy them their own house before I've got my own.
Published 7 November 2013