Case study
Channel 4 - winner of 2013 Opening Doors Award
Channel 4 won The Deputy Prime Minister's Award for Excellence at the Opening Doors Awards.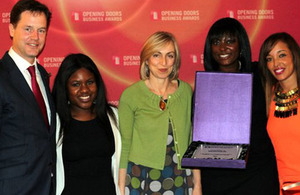 As a publisher-broadcaster with a remit to nurture talent, Channel 4 has a unique role in supporting emerging and established creative talent, both among its own employees and across the industry.
Channel 4 run their own award-winning internal programmes through 4Talent offering work experience placements, apprenticeships, internships, workshops and master-classes for young people between 16 and 25, keen to gain entry into the creative industries. They also provide funding and support for external skills bodies such as Creative Skillset and the National Film and Television School.
Channel 4 has played a pioneering role in tackling issues around social mobility in the belief that harnessing the full range of talent and skills available in the UK is essential not only in building a fairer society, but also in strengthening industry. For this reason Channel 4 became a founding signatory to the government's Social Mobility Business Compact, and pledged to support communities and schools, recruit fairly and openly, and provide opportunities for all young people to get a foot on the ladder.
Industry Talent Specialist, Priscilla Baffour says:
At Channel 4 we know that good ideas can come from anywhere. We're passionate about providing opportunities to people regardless of their background or experience. For us, it's important that our programming both on screen and off screen represents society.
The stats are impressive: almost 50 per cent of 4Talent-ers are from BAME groups (black, Asian minority ethnic), 50 per cent are women and 10 per cent have a disability.
Channel 4 launched its new talent programme in 2007; since then they've met more than 6,000 people to advise them about the range of jobs on offer. Priscilla said:
Of course we can't hire 6,000 people at Channel 4; we do this to promote the UK's wider creative industries to promote skills development and encourage creativity.
In late 2011, Channel 4 targeted areas of high youth unemployment and eschewed tried and tested cities such as Manchester or London where young people don't have to travel far to find opportunities, instead taking the 4Talent road show to Penzance, Sunderland, Barnsley and Govan. Priscilla said:
It's in our DNA to nurture new talent, particularly from diverse backgrounds but in terms of 4Talent, we go out across the country to young people's turf as it's a good way of engaging them in their own communities.

When you hear a young person say, 'Thank you so much for coming to Penzance, nobody ever comes here,' we feel like we're doing something right. We had this great plan and wanted to change lives, raise aspirations and inspire young people but until you hear it from them, you don't realise how much it's working.

We're really seeing the impact that 4Talent had on young people's lives. Evidence from our evaluation showed that 43 per cent went on to get further work experience and 70 per cent go on to find work in the industry.
Ch4 has a youth-orientated image and has tapped into social media to grow their audience aiming to be accessible to all regardless of where you live to educate them about the variety of roles to reach many more people. Priscilla said:
It's also a great opportunity to promote opportunities with other broadcasters and media companies. We don't just promote Channel 4. If say, an independent production company is looking for a runner, we advertise it or if the BBC are launching their production training programme, we communicate that too.
Young people love our programmes and more than 35,000 opt into us staying connected with them across our Facebook and Twitter feeds, which are alive with opportunities. We regularly invite them down to Channel 4 HQ where they can take part in debates and special events. And we want their input.
Ask Priscilla what she is proudest of and she says:
We have 4talent days, work experience and production training programme. All our teams offer fantastic opportunities and we're starting to see the impact of going out to off the cuff places to meet young people. What makes us unique is our open day and if we didn't travel to their town they wouldn't be able to afford to come to London and find out more about what we do.
18 months ago, Channel 4 launched their year-long Apprenticeship Scheme which pays a salary of £14,500. Priscilla said:
It's really important, when we're backing a social mobility agenda, particularly if someone comes from a deprived background and can't afford to relocate to London where it's very expensive to rent. We're signing up 68 per cent of apprentices who joined the business or another media company.
Priscilla singles out 2 success stories who progressed though the 4Talent programme.
One girl, Robyn struggled to land her first job but after coming to a 4Talent day in Derry she undertook work experience and now works in the Channel 4 press and publicity team.
Kerrianne grew up in a single parent family and after going to university, she found it hard going. Priscilla said:
Kerrianne attended a 4Talent show and after undertaking work experience, she's now an online video producer working on shows like Made in Chelsea. Every time Kerrianne walks in to the building, she can't believe that someone from her background has the opportunity to work here.
For more visit the 4Talent website.
Published 7 November 2013