Case study
EE - winner of 2013 Opening Doors Award
EE won the Opening Doors Award for Best Recruitment Scheme.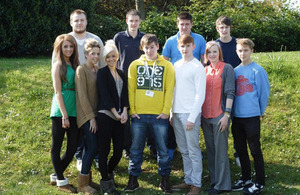 The number of apprenticeships created by EE to help tackle youth employment has now smashed the 400 barrier.
EE's apprenticeship programme started in April 2012 with a pilot of 50 apprentices. On the success of this pilot EE recruited 320 apprentices into its 6 UK contact centres representing at least a quarter of 2013 recruitment. The company has also expanded its scheme across the business and has recruited 80 apprentices into retail and head office in 2013.
EE started the programme to help transform the job prospects for young people living in the communities where it operates, many of which have above average levels of youth unemployment. For example North Tyneside, where 15 per cent of 18 to 24 year olds claim Jobseeker's Allowance.
Nathalie Warren, Senior HR Business Partner who established EE's apprenticeship scheme said:
We previously only recruited people with call centre experience but struggled to recruit. We wanted to open our business to untapped talent who might lack experience but have the enthusiasm to learn. We also had an early attrition challenge, losing a high percentage of advisors in call centres in the first year. We thought if we invested in training and show apprentices that they can develop a career with us, they will want to stay.
EE tailored their recruitment process to make it easy for apprentices with limited or no work experience to apply and develop. Apprentices receive a 10 week induction on technical and soft skills plus extra days on HR policies and managing money, in recognition that for many it is their first job. For EE's Doxford apprentices the business also ran a 3 week pre-apprenticeship employability course with Sunderland College to help candidates become 'job ready'.
Nathalie said:
We've had to do a lot of investment in behaviour training to ensure the apprentices understand the world of work. For example we emphasise the importance of time keeping and interacting with your team and manager and have embedded this into the EE and college training programme. For some it's a culture shock but we select high performing team leaders who receive full training and show a real desire to support and nurture the young apprentices.
All applicants receive an informal buddy to help. Nathalie said:
It worked really well in Darlington where the team leaders interviewed all the buddies for apprentices, a couple of the buddies were so inspired, they went on to apply for team leader roles. We're investing in the buddies and in turn, giving them more opportunities.
The scheme has been incredibly successful for the business. Apprentices have below average attrition and sickness rates and have higher levels of engagement. EE has been so impressed that they are offering permanent positions to all apprentices who pass their apprenticeship in 2013. This will open up many opportunities to progress including an annual internal fast-track scheme for top performers.
Proud of what has been achieved, EE attribute their "exceptional" 15-month apprenticeship down to robust recruitment, training and support that enable apprentices to unlock potential and succeed.
Keen to spread the word in local communities about the success, 2 apprentices spoke to 40 young people during a National Citizen Service and EE shared their experiences with 60 local businesses during National Apprenticeship week. Nathalie said:
I've worked in HR for 12 years including Downing Street and it's the best scheme I've ever implemented. The apprentices' performance is better on the phone, they have lower sickness, better attrition and are more engaged. It's a massive strategy that we're using to grow our workforce. We're hiring more people in the UK as a result of their performance and it's been fantastic. We've got a commitment that we will recruit 500 apprentices by 2015 but we're on track to crack that in 2014.
Published 7 November 2013