First ever garden villages named with government support
The garden villages have the potential to deliver more than 48,000 homes.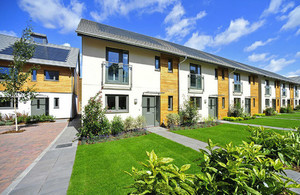 The first ever garden villages, which have the potential to deliver more than 48,000 homes across England, have been given government backing.
In an expansion of the existing garden towns programme, these smaller projects of between 1,500 and 10,000 homes continue the government's commitment to support locally-led development and make sure this is a country that works for everyone.
The 14 new garden villages – from Devon to Derbyshire, Cornwall to Cumbria – will have access to a £6 million fund over the next 2 financial years to support the delivery of these new projects.
This money will be used to unlock the full capacity of sites, providing funding for additional resources and expertise to accelerate development and avoid delays.
The government also announced today (2 January 2017) its support for 3 new garden towns in Aylesbury, Taunton and Harlow & Gilston – and a further £1.4 million of funding to support their delivery.
Together with the 7 garden towns already announced, these 17 new garden settlements have the combined potential to provide almost 200,000 new homes across the country.
Housing and Planning Minister Gavin Barwell said:
Locally-led garden towns and villages have enormous potential to deliver the homes that communities need.

New communities not only deliver homes, they also bring new jobs and facilities and a big boost to local economies. These places combined could provide almost 200,000 homes.
New garden villages and towns
These developments will be distinct new places with their own community facilities, rather than extensions to existing urban areas. The 14 new garden villages are:
Long Marston in Stratford-on-Avon
Oxfordshire Cotswold in West Oxfordshire
Deenethorpe in East Northants
Culm in Mid Devon
Welborne near Fareham in Hampshire
West Carclaze in Cornwall
Dunton Hills near Brentwood, Essex
Spitalgate Heath in South Kesteven, Lincolnshire
Halsnead in Knowsley, Merseyside
Longcross in Runnymede and Surrey Heath
Bailrigg in Lancaster
Infinity Garden Village in South Derbyshire and Derby City area
St Cuthberts near Carlisle City, Cumbria
North Cheshire in Cheshire East
The 3 new garden towns are:
Aylesbury, Buckinghamshire
Taunton, Somerset
Harlow & Gilston, Essex and Hertfordshire
Further information
In addition to funding, the government will provide support in terms of expertise, brokerage and offer of new planning freedoms.
Due to the high level of expressions of interest submitted in July 2016, the government has made an additional £1 million available this year for further development of other garden village proposals.
The government may run a further call for expressions of interest in 2017 for other places with proposals for new garden villages.
A garden town is a development of more than 10,000 homes. Garden villages are smaller settlements of between 1,500 and 10,000 homes.
By 2020, more than 25,000 housing starts are expected in garden villages, towns and cities supported by the government. Homes are already being built in several locations, including Bicester, Basingstoke, Didcot, Otterpool Park in Kent, Ebbsfleet, Aylesbury, Taunton and North Northants.
The new garden projects will also have access to infrastructure funding programmes across government, such as the new £2.3 billion Housing Infrastructure Fund announced at this year's Autumn Statement.
Office address and general enquiries
2 Marsham Street
London
SW1P 4DF
If your enquiry is related to COVID-19 please check our guidance page first before you contact us - https://www.gov.uk/guidance/coronavirus-covid-19-guidance-for-local-government.

If you still need to contact us please use the contact form above to get in touch, because of coronavirus (COVID-19). If you send it by post it will not receive a reply within normal timescale.
Published 2 January 2017