Find Me Some Government Space - new website to sell government buildings
A new website, Find Me Some Government Space, lets the public see for the first time what government property is available to buy or rent.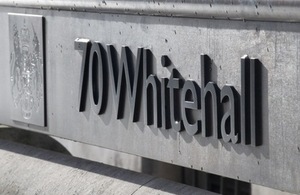 24 January 2013
CAB 06-13
A new website that will let members of the public see for the first time what government property is available to buy or rent was launched today by Cabinet Office Minister Chloe Smith. Find Me Some Government Space operates similarly to commercial sites such as 'rightmove' in that the public will be able to find available property using either a postcode or area keyword.
The website is expected to speed up the process for government to exit its unused property. It will open up over 300 properties available to rent and around 900 currently available to buy across Great Britain. Property available to purchase includes an old Magistrates Court in Retford and an old Battle Hospital in Reading.
Minister for Political and Constitutional Reform, Chloe Smith said:
We're making the civil service more efficient and cutting waste, as a result we will have a number of properties both owned and rented that we need to do more with.

Not only will this website help to save government money but we will see new opportunities, jobs and growth in local economies as new life is brought into empty, unused properties.
Users will be able to access the site via the new government website GOV.UK to search for property to purchase or rent from the government. Property will be displayed with photos and building guides where available. No log-in details are required to access the site which alongside building details will also supply the relevant contact details for the official involved in renting or selling the building.
The National Property Controls introduced by the Minister for the Cabinet Office, Francis Maude, which stop signing of new leases and renewals of existing leases, have already reduced costs from May 2010 to September 2012 by £362 million a year. Additionally - over the 20 months following May 2010, over £640 million has been raised in capital receipts by selling over 250 surplus buildings.
Notes to editors
The e-PIMs data contains the details of available property from most central and local government departments. It is available at http://www.data.gov.uk

The first version of the tool is available to the public from the 25th January. Civil servants will also be able to access the website via a log-on page to view property which is unable for public use due to either security or contractual arrangements.

The tool takes information from the e-PIMs data on government property that government departments already provide - it is also published on data.gov As new sites become available the website will automatically update.

Other property available via the website include:
Bidston observatory
Wakefield Fire Control Centre
Lerwick Observatory Site
Witham Magistrates Court
Park Lane Ambulance Station Wolverhampton
Disused mortuary at Royal Victoria Hospital Folkestone
The tool goes live on Friday morning 9am here: Find Me Some Government Space.
Published 24 January 2013