News story
Final call for Basic Payment Scheme claims
Deadline for applications for Basic Payment Scheme 2015 is midnight on 10 July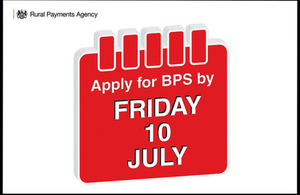 With just 2 days to go until the final deadline for Basic Payment Scheme (BPS) claims, the Rural Payments Agency (RPA) has received 88,105 applications – just over 850 of them in the penalty period.
The Agency has sent out final reminders by letter and email to those who have been emailed a BP5 application form but are yet to apply. Farmers who do not apply in the first year of BPS will lose their entitlements.
The Agency is also reminding farmers that anyone applying between 16 June and 10 July loses 1% of the value of their claim for every working day their form is delayed.
Farmers are also being contacted to ask them to provide any missing information on their BP5 forms.
Applying for BPS 2015
Farmers can download forms and find more information at www.gov.uk/rpa/bps.
Completed forms can be sent to:
Rural Payments Agency
PO Box 352
Worksop
S80 9FG

Applicants are advised to use a signed-for service, ensuring they include all the necessary documents in the envelope and use enough postage to cover the weight and size of the package.
Farmers can also take their forms to one of 6 RPA drop-in centres up to 5pm on 10 July in Carlisle, Workington, Newcastle, York, Reading and Exeter.
Anyone who needs support with making a claim can contact the Rural Payments helpline on 03000 200 301 (Monday to Friday, 8:30am to 5pm).
Published 8 July 2015