Press release
Final 2014 employment figures show all time record number of people in jobs
Full-time jobs accounted for 95% of the rise in employment over the past year, with private sector employment rising by 637,000.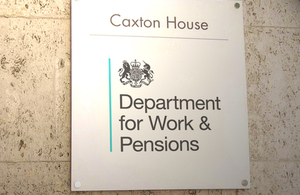 Private sector regular pay also rose by 2%, compared with inflation of 1.3%, with strong wage growth in the manufacturing and business services industries according to the Office of National Statistics (ONS).
Work and Pensions Secretary Iain Duncan Smith said:
These remarkable figures show that our long term economic plan to create a better more prosperous future for Britain is working. Behind them are countless stories of individual hard-work and determination, with more people than ever before feeling financially secure.

What we can see at the end of 2014, is that our welfare reforms are ensuring that people have the skills and opportunities to move into work. Whether that's work experience for young people to get their foot on the career ladder, the benefit cap encouraging people to get a job, or the Work Programme which is helping more people than any previous jobs scheme.

These figures show that our long term economic plan to create a better more prosperous future for Britain is working – with thousands of people feeling more secure over the Christmas period with a regular wage.
Growth in private sector employment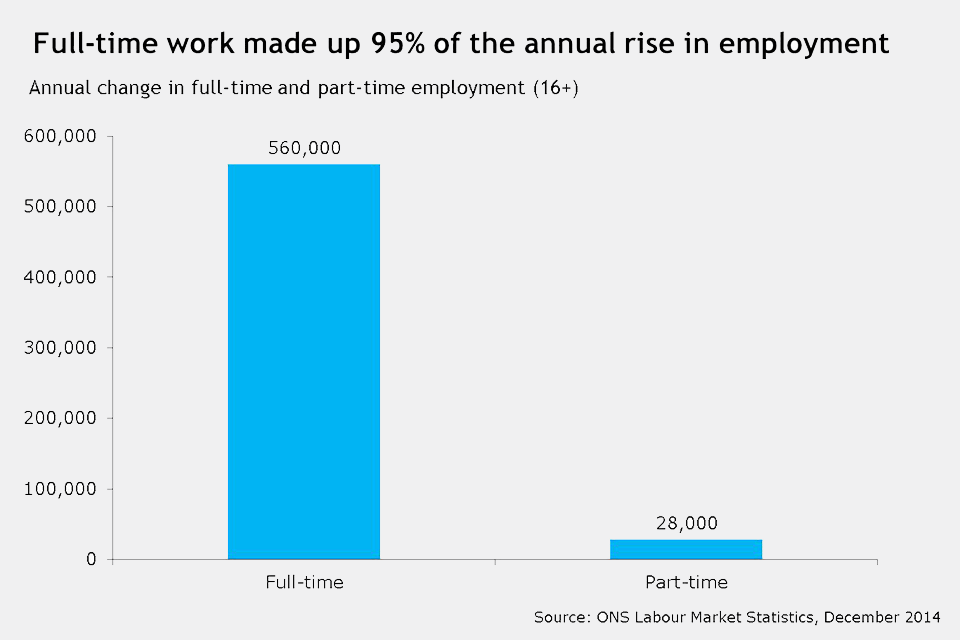 Overall employment figures
30.8 million people in work (record high)
employment rate – 73%
unemployment rate – 6%
1.96 million unemployed
record number (14.4 million) and rate (68.1%) of women in work
Vacancies have also hit the level last seen at the beginning of 2008 – with 690,000 jobs available in the economy at any one time. The number of working age people claiming the main out-of-work benefits is also now the lowest in a generation.
Youth
Youth employment is up by 109,000 over the past year – with 3.8 million now in jobs. The number of young people aged 18 to 24 on unemployment benefits has fallen every single month for the past 3 years, and is at the lowest since the 1970s. The number of long-term unemployed young people claiming benefits has also nearly halved over the past year – falling 29,500 to 31,400.
International comparisons
Over the past year, the UK has seen the strongest employment growth in the G7 – better than the United States, Germany, Japan, Canada and France.
Supporting people into work
The Department for Work and Pensions (DWP) offers a range of support across the country to get people off benefits and into jobs through our network of over 700 Jobcentres. These include work experience, employer-led training, work placements, skills training, the Work Programme, and help for budding entrepreneurs through the New Enterprise Allowance.
Research published this week confirmed that the benefit cap is providing a clear incentive for benefit claimants to find work.
The Work Programme – the biggest single payment by results employment programme Britain has ever seen – has also contributed to the numbers in work, by helping more than 330,000 long-term unemployed off benefits and into sustained work. The scheme is helping more people than any previous scheme, and new statistics will be published tomorrow.
DWP has also introduced the 'Claimant Commitment' in all British jobcentres – it is a more rigorous commitment for benefit claimants based on the person's individual circumstances and clearly sets out what their responsibilities are while job hunting.
More information
New official statistics have also been published today showing the latest number of claims to Universal Credit.
Find out how Jobcentre Plus can help you prepare for, find and stay in work.
Information and advice for older workers returning to the workforce.
Find out how the New Enterprise Allowance can provide money and support to start up your own business.
Contact Press Office
Media enquiries for this press release – 020 3267 5161
Press Office
Caxton House
Tothill Street
London
SW1H 9NA
London Press Office (national media and London area enquiries only – not questions about personal claims) 020 3267 5144
Out-of-hours (journalists only) 076 59 108 883
England and Wales (local media enquiries) 029 20 586 then 097 or 098 or 099
Scotland (local media enquiries) 0131 310 1122
Follow DWP on:
Published 17 December 2014
Last updated 18 December 2014
+ show all updates
Added link to video and link to related article '5 things you need to know about employment statistics'
First published.