Press release
Fight against drugs to benefit from £125 million
The government has today committed £125 million in the fight against drugs over the next financial year to help users kick their habit for good and lead drug free lives.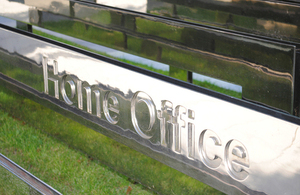 The money supports the recent publication of the ambitious cross-government drug strategy, which sets out how we will tighten the net on unscrupulous dealers and for the first time put drug-free recovery at the heart of our response.
As part of the drug interventions programme the £125 million will fund work across England and Wales for drug testing, managing drug misusing offenders and drug testing equipment and infrastructure.
The funding is made up of £65m from the Home Office and £60m from the Department of Health.
James Brokenshire, minister for crime prevention, said: 'Drugs ruin lives and cause misery in communities across the country.  It is vital we continue to fund important work that will see us intervene at the earliest opportunity, stopping people from falling into the dangerous and damaging cycle of drug dependency.
'These are difficult financial times, difficult decisions have to be taken and we must make less go further. But we are absolutely clear in our commitment to continue funding the fight against drugs.'
Anne Milton, public health minister, said: 'It is vital we do all we can to prevent people using drugs in the first place. Those who do must have access to the services they need to help them re-build their lives and contribute productively to society.
'Recovery is at the heart of our approach. This money will mean we can put the right services in place to enable those who are drug dependent to find the right recovery path.'
Local areas have been given greater flexibility and freedom around the use of this funding to encourage greater innovation, prioritisation of resources for local needs, and increased focus on improved rehabilitation and recovery outcomes.
These grants will favour front line workers, with over three quarters of the funding provided for key operational staff. 
Notes to editor
The drug interventions programme has been operating for six years with the aim of developing and integrating measures for directing adult drug-misusing offenders into drug treatment and reducing offending behaviour.
2. For more information contact the Home Office press office on 020 7035 3535.
Published 16 December 2010