Press release
Fewer Government ICT frameworks to attract wider range of suppliers
A new approach for how frameworks are used to procure ICT will make it easier for ICT suppliers, particularly SMEs, to work with government.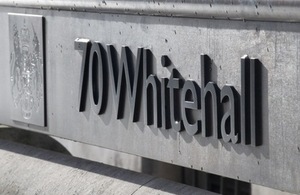 Government ICT frameworks - which remove excessive procurement procedures and extensive tendering by helping buyers choose from a list of pre-approved suppliers - will only be agreed where they are shown to deliver against the Commercial ICT Strategy and can attract businesses of all sizes, Cabinet Office Parliamentary Secretary Chloe Smith announced today.
Following a comprehensive internal review, a new approach for how frameworks are used to procure ICT in Government will make it easier for ICT suppliers - particularly SMEs - to do business with Government through more appropriate, efficient, and wherever possible, simpler procurements.
This means there will be far fewer large ICT frameworks. Only those that explicitly deliver against key strategic needs, and are shaped to offer a reasonable chance of business for suppliers of all sizes, will be agreed.
Chloe Smith said:
We are already operating as one joined-up commercially savvy 'single' client. Through this we're identifying savings across government ICT contracts for the taxpayer, getting the best deals, and flagging future opportunities to make sure we really are opening up government business to a broader range of suppliers.

Framework agreements only work if they deliver what they set out to deliver and drive the greatest competition from a wider range of suppliers, including SMEs - that's why we're strengthening procurement by ensuring they align with what Government needs as well as working for suppliers.
Bill Crothers, Government Chief Procurement Officer said:
Bold action is necessary if we are to find greater efficiencies whilst attracting more innovative suppliers and supporting growth.

After looking at the current frameworks in use, we've decided to cease the Application Development, Delivery and Support Service (ADDSS) and Hosting Services procurements from today and Service Integration & Management Services (SIAM) will not be progressed through the framework route. Frameworks which are already operating effectively and delivering significant change such as the Public Services Network (PSN) and G-Cloud provide a model for success and will continue.
Cancellation of these procurements will have immediate effect. Where appropriate, individual contract procurements for specific services will be initiated for departments or groups of departments. Affected suppliers have been advised and Government Procurement Service (GPS) will continue to communicate with the market on upcoming procurements and frameworks.
Published 20 December 2012