News story
Female genital mutilation prevention week of action
Dedicated FGM prevention week aims to raise awareness of ongoing need to protect girls and women from this harmful and illegal practice.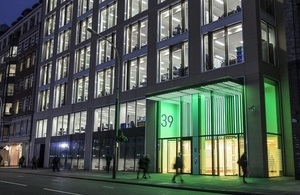 Following the International Day of Zero Tolerance for FGM, public health minister Jane Ellison has launched an FGM prevention week of action and is urging health and care professionals to help prevent FGM.
FGM and mental health
The department is working to understand the specific mental health needs of FGM survivors. We are working with the British Association for Counselling and Psychotherapy to survey the experiences of professionals treating women and girls affected by FGM.
Health professionals can access a new NHS Choices training video to help them understand the specific mental health needs of women with FGM. New e-learning for healthcare professionals, from Health Education England, about the mental health impacts of FGM will be available from March 2016.
Jane Ellison said:
FGM is an abusive and illegal practice that can devastate lives and cause extreme and lifelong physical and psychological suffering to women and girls.

This government is committed to ending FGM in a generation in the UK. We have taken bold action so that for we now know how many FGM survivors we are treating in the NHS. We are also training thousands of front line professionals to play their part caring for women and protecting girls from FGM.

The next step is to make sure that survivors are aware of and have access to the right mental health support. So we are working with professionals, campaigners and survivors to plan how to deliver and embed these services in the health system.
FGM survivors
Jane Ellison visited the African Well Woman service in Ealing. She met women who talked about their own experiences of FGM. Watch 'Christina' talk about her experience.
You can watch 'Christina' talk about her experience.
FGM prevention
There are currently 60,000 girls aged 0 to 14 years living in the UK who are potentially at risk of FGM.
Jane Ellison said:
I am immensely proud of the progress that has been made over the recent years to protect and care for women and girls who are affected by FGM. For the first time we have started collecting information about the number of patients the NHS is treating with FGM.

We have introduced guidance on how to protect young girls and care for women who have already undergone FGM. And we have brought into legislation a clear new duty of when to report to the police cases of FGM in children.

However there is still more to do and FGM prevention week is an opportunity for everybody to use this knowledge and guidance and take positive action to end FGM. We want to end FGM in a generation in the UK.
This week, whether you are a health or social care professional, a member of an FGM practising community or an FGM survivor, we would like you to think about your own role and what more you can do to help prevent FGM in your area.
FGM prevention week is to mark the annual International Day of Zero Tolerance for FGM on 6 February. It will run from 8 to 12 February 2016 and will focus on a different aspect of FGM prevention work each day:
Tuesday 9 February: mandatory reporting
Wednesday 10 February: communities and survivors
Thursday 11 February: training
Friday 12 February: mental health
See ideas and resources to help you prevent FGM and raise the profile of it in your area during FGM prevention week.
Follow and take part in the FGM prevention week of action on Twitter using the hashtag #endFGM
Published 8 February 2016
Last updated 12 February 2016
+ show all updates
Added information about mental health and the training available to healthcare professionals.
Added a video of an FGM survivor talking about her experience.
First published.