Press release
Featherstone: new UK support for world's 'forgotten crisis'
Development Minister Lynne Featherstone announces support to help people suffering from humanitarian crisis in the Central African Republic.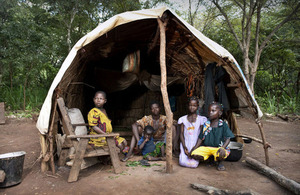 The UK will provide £5 million to help hundreds of thousands of people suffering from the humanitarian crisis in the Central African Republic (CAR), International Development Minister Lynne Featherstone announced today.
Earlier this month the UN labelled the situation in the country a 'forgotten crisis'. UN appeals for funding have so far met with limited response from the international community and the UK is urging donors to step forward and support humanitarian action in CAR.
The UK funding will provide:
100,000 people with improved water and sanitation, as well as materials to rebuild their homes
250,000 people with access to healthcare
50,000 of the country's most vulnerable people with emergency nutrition
funding for humanitarian flights so aid workers can reach those stranded in remote areas
Lynne Featherstone said:
The appalling humanitarian situation in the Central African Republic has affected every man, woman and child in the country. Hundreds of thousands of people have been left without a home or basic services like health, water and education.

Britain will not look the other way while millions of the world's most vulnerable people are suffering. This support will provide a lifeline to the people of CAR, helping them to rebuild after months of violence.
The funding will be allocated to the International Committee of the Red Cross (ICRC), the United Nations Humanitarian Air Service and international NGOs.
Notes to editors
4.6 million people – the entire CAR population – have been affected by the crisis, which was exacerbated by a presidential coup in March. The Seleka rebels behind the coup have been accused of serious human rights abuses across the country and Joseph Kony's violent Lord's Resistance Army is active in the South East.
William Hague raised concerns about the situation in the Central African Republic in March.
General media queries
Follow the DFID Media office on Twitter - @DFID_Press
Published 30 July 2013