Press release
Annual Human Rights Report 2015
The 2015 Foreign Office Annual Report on Human Rights and Democracy shows that human rights remain at the heart of British foreign policy.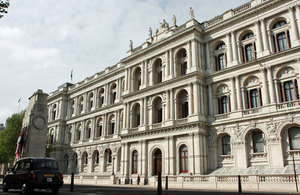 The Foreign Office has issued its Annual Human Rights Report for 2015. The report, published on 21 April 2016, illustrates the priority attached to human rights across the FCO network.
The Foreign Secretary, Philip Hammond, said:
The promotion of human rights is a core part of the everyday work of the Foreign Office and is the responsibility of British diplomats around the world. This year we are doubling the funding available for human rights projects to £10 million, through the Magna Carta Fund – a true measure of the importance we attach to this agenda.
The report focuses on 3 human rights themes:
democratic values and the rule of law
human rights for a stable world
strengthening the rules-based international system
It shows how these themes are embedded across UK's foreign policy, and are integral to tackling the root causes of human rights violations. The report designates 30 Human Rights Priority Countries, where the FCO will prioritise engagement for the duration of this Parliament.
The report illustrates how the FCO can make a positive difference and deliver lasting change. Examples include the UK's support – through the Human Rights Council – for peace and reconciliation in Sri Lanka; and the UK's continuing leadership against sexual violence in conflict.
Further information
Published 21 April 2016