Press release
FCO Minister welcomes improved Kuwait-Iraq relations
Foreign Office Minister Alistair Burt welcomes improved relations between Iraq and Kuwait.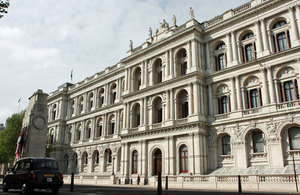 Commenting on UN Security Council Resolution 2107, passed today in New York, Minister for the Middle East Alistair Burt said:
I'm delighted that the UN Security Council has today recognised Iraq's efforts to improve and normalise its relations with Kuwait. I congratulate Iraq on the efforts they have made to achieve this, and thank Kuwait for the support and flexibility they have shown. I hope that this will mark a milestone in the continuing improvement in relations between the two countries, and act as an example of co-operation to resolve difficult and long-standing issues in the region.
Further information
Follow Foreign Office Minister Alistair Burt on twitter @AlistairBurtFCO
Follow the Foreign Office on twitter @foreignoffice
Follow the Foreign Office on facebook and Google+
Subscribe to the announcements feed or email alerts to get our latest news and announcements.
Published 27 June 2013