Press release
FCO Minister Tobias Ellwood statement on violence in Israel and OPTs
Minister for the Middle East, Tobias Ellwood, condemns violence in Israel and Occupied Palestinian Territories.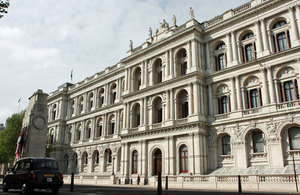 Speaking today Tobias Ellwood said:
The UK Government remains extremely concerned by the violence that we have seen across Israel and the Occupied Palestinian Territories so far this month.

We condemn the terrorist attacks in Jerusalem on 13 October which have resulted in the deaths of a number of Israeli citizens, as well as other attacks which have left multiple innocent civilians wounded. We are also concerned by the use of force by Israeli security personnel in response to protests and security incidents, which has resulted in several deaths and thousands of injuries.

We urge all parties to refrain from violence, and encourage Israeli and Palestinian leaders to actively de-escalate the situation and avoid measures which could further fuel tensions.
Further information
Follow Foreign Office Minister Tobias Ellwood on twitter @Tobias_Ellwood
Follow the Foreign Office on twitter @foreignoffice
Follow the Foreign Office on facebook and Google+
Published 13 October 2015